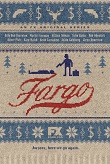 FX has released two new teasers for the second season of their hit series Fargo. While short on content, these clips help set the tone as the series heads back to 1979. 
Fargo, stars Kirsten Dunst, Patrick Wilson, Ted Danson, Jean Smart, Jesse Plemons, Nick Offerman, Bokeem Woodbine, Kieren Culkin, and Brad Garrett.
The second installment returns Monday, October 12 at 10 PM PT on FX
Description: This ain't some cookie cutter crime, ya know.
Description: Can anyone keep the peace in Fargo? There's a whole lotta trouble headed north this Oct on FX.
Visit the show's website http://www.fxnetworks.com/fargo
Like Fargo on Facebook
Follow Fargo on Twitter
Source: ©2015 FX Networks, LLC. All Rights Reserved.
YOU MIGHT ALSO LIKE...
TV News: FARGO Season Two Marathon Begins June 4 At
TV News/Videos: FX Sets Premiere Date for Third Season of
Casting News: Mary Elizabeth Winstead Joins Cast of Fargo
News and Video Clips: FX's Highly Anticipated Drama Series Legion
Casting News: David Thewlis, Michael Stuhlbarg and Jim Gaffigan Join
TV News: Legion Picked Up By FX Networks to Debut
The Good Place – "Pilot" Advance Review. The Right or
Comic-Con TV News: FX and Marvel Release X-Men Spin-Off Legion
© 2015, Greg Staffa. All rights reserved.
Greg Staffa
I provide testosterone to the site. You won't be reading about how nice a actress looks in a dress or how much of a hunk Matt Bomer is in my reviews. I describe colors using words like brown, not taupe. My twitter name is @staffaroadtrip because I love road trips and have done two different 48-state road trips since 2008. My favorite show is White Collar.
Latest posts by Greg Staffa (Posts)