THE DYSFUNCTIONAL DOLLANGANGER SAGA RETURNS TO
LIFETIME® WITH PREMIERES OF ORIGINAL MOVIES
IF THERE BE THORNS ON APRIL 5
and
SEEDS OF YESTERDAY ON APRIL 12
Heather Graham Reprises Role of Corrine Dollanganger;
Jason Lewis, Rachael Carpani and James Maslow also Star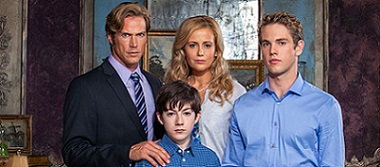 LOS ANGELES, CA – February 26, 2015 – Coming off the heels of last year's hit Original Movies Flowers in the Attic and Petals on the Wind, Lifetime premieres the long-awaited films based on the final two novels in V.C. Andrews' iconic series about the Dollanganger family. If There Be Thorns (#IfThereBeThorns) premieres on Sunday, April 5, at 8pm ET/PT, and Seeds of Yesterday (#SeedsOfYesterday) will debut on Sunday, April 12, 2015, at 8pm ET/PT.
The third installment in Andrews' bestselling series that began with Flowers in the Attic, If There Be Thorns follows Christopher (Jason Lewis, Sex and the City, Brothers & Sisters) and Cathy Dollanganger (Rachael Carpani, McLeod's Daughters) as they live together as man and wife with Cathy's two sons who are unaware of the incestuous nature of their parents' relationship. But when a mysterious woman moves in next door and befriends the younger boy, Bart (Mason Cook, Legends), he begins a strange transformation and displays accusatory behavior towards Cathy and Christopher. When Christopher discovers their mysterious neighbor is, in fact, his mother Corrine Dollanganger (Heather Graham, Californication, The Hangover), all of the family's long-hidden secrets are revealed in a tragic climax.
If There Be Thorns is produced by A+E Studios®. Dan Angel (R.L. Stine's The Haunting Hour) and Jane Startz (Spooksville) executive produce. It is written by Andy Cochran (Restless Virgins) and directed by Independent Spirit Award nominee Nancy Savoca (True Love, If These Walls Could Talk); Harvey Kahn (Flowers in the Attic) and Rick Arredondo (Petals on the Wind) are producers.
The saga of the tormented Dollangangers comes to an end in Seeds of Yesterday, in which the family continues to coexist miserably. Also starring Carpani and Lewis, the film follows Cathy's two adult sons, Bart (James Maslow, Big Time Rush) and Jory (Anthony Konechny, Fifty Shades of Grey, Godzilla), half-brothers with little in common whose lives are fueled by deeply troubled relationships, dark secrets and misfortune that come to a head in a way that will haunt the family and its progeny forever.
Source: ©2015 Lifetime Networks, a division of A&E Television Networks, LLC. All Rights Reserved.
YOU MIGHT ALSO LIKE...
Petals on the Wind – Retrospective. Sex, Revenge, and Double
A Dark & Twisted Journey. Advance Review – "Flowers In
Lifetime Movie Seeds of Yesterday Retrospective. The Final Chapter.
Lifetime Movie If There Be Thorns – Review. Dark, Disturbing,
Interview: Jason Lewis and Rachael Carpani Talk About If There
EXCLUSIVE: Interview with Screenwriter Kayla Alpert About Flowers in the
© 2015, YEC-Admin. All rights reserved.
YEC-Admin
The Administrative Team of YEC. We love TV, Movies, Books, & More...
Latest posts by YEC-Admin (Posts)