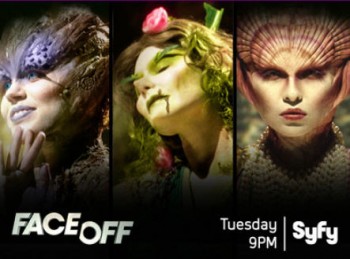 Face Off airs Tuesdays at 9/8c on Syfy.
Next on Face Off – the contestants undertake the most daunting challenge in the show's history – to transform themselves into superheroes and villains! Find out what lies ahead for the artists in the sneak peek below.
"Super Selfies" – Sneak Peek: The contestants create their own superhero alter-egos. Find out who wins on Tuesday, March 17, 2015 at 9/8c.
Check out the photos from "Super Selfies"
For more on the show, go to www.Syfy.com/faceoff
Follow Face Off on Twitter @FaceOffSyfy #FaceOff
Like Face Off on Facebook http://Facebook.com/FaceOffSyfy
Source: ©2015 Syfy, a division of NBC Universal. All Rights Reserved.
© 2015, Judy Manning. All rights reserved.
Judy Manning
Dream chaser extraordinaire! Judy is sarcastic and goofy! She is an avid admirer of all things supernatural, paranormal, and mystical. (She finally came around to zombies, but NO clowns...she loathes clowns). She loves to read and write, watches way too much TV, and enjoys many genres of film. She's enjoy prefers music of the Trance/electronica variety (and most music from the 80s let's be honest). She also has a wicked sweet tooth. Cupcakes beware.
Latest posts by Judy Manning (Posts)