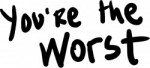 Gretchen, realizing she doesn't really have any adult belongings, takes the gang on a trip to the mall. Jimmy uses this opportunity to gain some writing inspiration. Meanwhile, a newly single Lindsay recruits a hesitant Edgar to help her pick up guys.
LIKE You're The Worst on Facebook.
Follow You're The Worst on Twitter, using #YoureTheWorst.
For more info on the show and to watch previous episodes, visit the official site.
Video courtesy of FXX ©2015 FX Networks, LLC. All Rights Reserved.
© 2015, Elle. All rights reserved.
Writer, mother, realist, cloud lover, daydreamer, dessert enthusiast, sweet tea addict, perfectionist, and lover of life and Christ, but not in that order. http://www.fanfiction.net/~vikingloverelle
Latest posts by Elle (Posts)