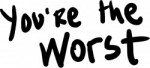 When you refuse to grow up, you snort lines off your tatas. Lindsay shows you how it's done.
LIKE You're the Worst on Facebook.
Follow You're the Worst on Twitter using #YoureTheWorst.
Follow You're the Worst on Instagram.
For more on the show, or to view previous episodes, visit the official website.
Video courtesy of FXX ©2015 FX Networks, LLC. All Rights Reserved.
YOU MIGHT ALSO LIKE...
TV News: FX Networks Sets Season 3 Premiere Dates For
Videos: Season Three of YOU'RE THE WORST Premieres Aug. 31
TV News: FXX Comedy Series YOU'RE THE WORST Renewed For
Video: The Originals "Give 'Em Hell Kid" Trailer
TV Clip: The Vampire Diaries "Gods & Monsters" Trailer
Video: The Vampire Diaries "The Devil" Trailer
Videos: Season 12 of IT'S ALWAYS SUNNY IN PHILADELPHIA Premieres
Video and Photos: Outlander Episode 207 "Faith"
© 2015, Elle. All rights reserved.
Writer, mother, realist, cloud lover, daydreamer, dessert enthusiast, sweet tea addict, perfectionist, and lover of life and Christ, but not in that order. http://www.fanfiction.net/~vikingloverelle
Latest posts by Elle (Posts)