I'm extremely excited for the upcoming season of TNT's The Last Ship, especially after attending the fun and very animated press room for the series at this year's Wonder Con 2015 in Anaheim. Stay tuned for the video interviews with some of the cast members and executive producers coming to YEC very soon! Teaser: The show picks up where we left off in season one – no time jumps.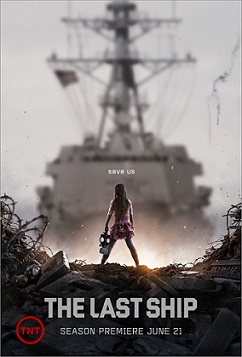 Excitement Builds as TNT Unveils New Trailer and Key Art
For Season 2 of The Last Ship
Fans at WonderCon Anaheim 2015 Treated to Panel Discussion
With Stars and Executive Producers of Basic Cable's #1 New Series of Last Year
TNT has unveiled a new two-minute trailer and key art for the upcoming second season of the blockbuster hit The Last Ship. Fans of the series, which topped the charts as basic cable's #1 new show of 2014, got to see the trailer on the big screen this afternoon at WonderCon Anaheim 2015. They also got to hear about the upcoming season of The Last Ship during a panel discussion with series stars Rhona Mitra (Strike Back) and Adam Baldwin (Firefly, Chuck), Travis Van Winkle (Heart of Dixie), Charles Parnell (Pariah), Christina Elmore (Fruitvale Station), John Pyper Ferguson (Unforgiven) and Jocko Sims (Masters of Sex), along with executive producers Hank Steinberg (creator of Without a Trace, The Nine), Steven Kane (The Closer) and Jack Bender (Lost). The panel was moderated by TV Guide's Rob Moynihan.
Based on William Brinkley's popular novel, The Last Ship chronicles a global catastrophe that nearly decimates the world's population. Because of its positioning, the Navy destroyer U.S.S. Nathan James avoided falling victim to the devastating tragedy. But now, Captain Tom Chandler (series star Eric Dane) and his crew must confront the reality of their new existence in a world where they may be among the few remaining survivors. The Last Ship is slated to launch its second season on Sunday, June 21, with a two-hour premiere at 9 p.m. (ET/PT).
When it premiered last year, The Last Ship immediately hit the top of the charts and went on to finish the year as basic cable's #1 new series with total viewers and adults 25-54. For the first season, the show reached an average of 14.5 million viewers across TNT's linear, on-demand, digital and mobile platforms.
The Last Ship is produced by Platinum Dunes, with its partners – blockbuster filmmaker Michael Bay, Brad Fuller and Andrew Form – serving as executive producers. Co-creators and showrunners Hank Steinberg and Steven Kane also serve as executive producers, along with Jack Bender.
Later today, WonderCon will feature a session on TNT's Falling Skies, which will mark its fifth and final season this summer. The panel will feature stars Drew Roy, Sarah Carter and Colin Cunningham, and will be moderated by TV Guide's Rich Sands. Falling Skies returns for its final season on Sunday, June 28, at 10 p.m. (ET/PT).
Tune in to the two-hour season two premiere of The Last Ship, Sunday, June 21, at 9PM E/P only on TNT.
For more on The Last Ship, go to http://www.thelastshiptnt.com/
Facebook: www.facebook.com/TheLastShipTNT
Twitter: twitter.com/TheLastShipTNT | #TheLastShip
Connect with TNT
Website: www.tntdrama.com
Pressroom: pressroom.turner.com/us/tnt
YouTube: www.youtube.com/user/tntweknowdrama
Facebook: www.facebook.com/TNTDrama
Twitter: twitter.com/TNTDrama | twitter.com/TNTPR
Source ©2015 TNT/Turner Broadcasting System, Inc., a Time Warner Company. All Rights Reserved.
© 2015 – 2017, Judy Manning. All rights reserved.
Judy Manning
Dream chaser extraordinaire! Judy is sarcastic and goofy! She is an avid admirer of all things supernatural, paranormal, and mystical. (She finally came around to zombies, but NO clowns...she loathes clowns). She loves to read and write, watches way too much TV, and enjoys many genres of film. She's enjoy prefers music of the Trance/electronica variety (and most music from the 80s let's be honest). She also has a wicked sweet tooth. Cupcakes beware.
Latest posts by Judy Manning (Posts)