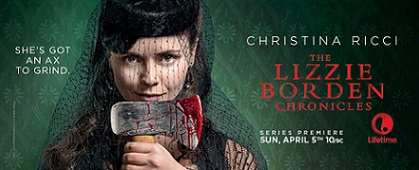 Golden Globe® and Emmy® Award nominee Christina Ricci (Monster) reprises her role as the notorious murder suspect in The Lizzie Borden Chronicles.
The Lizzie Borden Chronicles delivers an intense and fictionalized account of actual events and people surrounding Lizzie's (Ricci) life after her controversial acquittal of the horrific double murder of her father and stepmother in 1892. The exonerated figure lives a life awash in newfound celebrity filled with scandalous love affairs. But when numerous people close to Lizzie – ranging from her half-brother William (Andrew Howard, Hatfields & McCoys) to Broadway luminaries and her business associate/underworld kingpin Mr. Flowers (Emmy® nominee Jonathan Banks, Breaking Bad) — start to mysteriously die under brutal and strange circumstances, legendary Pinkerton detective Charlie Siringo (Cole Hauser, Good Will Hunting) becomes determined to prove her involvement in their ultimate demise.
Jessy Schram (Falling Skies) plays Nancy O'Keefe, an alluring and ambitious actress and dancer who befriends Lizzie and Emmy® nominee John Heard (The Sopranos) will portray William Almy, the business partner of Lizzie's murdered father Andrew. Screen Actors Guild Award® winner Clea DuVall (Argo) also reprises her role as Lizzie's sister, Emma, in the eight-part series, premiering April 5, 2015. Watch the promos below.
The Lizzie Borden Chronicles is produced by Sony Pictures Television and executive produced by Judith Verno (Lizzie Borden Took An Ax) and Ricci. The limited series is written by Greg Small & Rich Blaney (Jodi Arias: Dirty Little Secret), Barbara Nance (House of Lies), Jason Grote (Mad Men) and David Simkins (Grimm). Stephen Kay (Sons of Anarchy) directs episodes one and two, while Russell Mulcahy (Teen Wolf) directs episodes three and four, and Howard Deutch (American Horror Story) helms episodes five and six.
Tune in to The Lizzie Borden Chronicles, premiering Sunday, April 5, 2015 at 10/9c on Lifetime.
For more on the show, go to http://www.mylifetime.com/shows/the-lizzie-borden-chronicles
Follow Lifetime on Twitter @LifetimeTV #LizzieBorden
Like Lifetime on Facebook https://www.facebook.com/lifetime
Source: ©Lifetime Networks, a subsidiary of A+E Networks. All Rights Reserved.
© 2015, Judy Manning. All rights reserved.
Judy Manning
Dream chaser extraordinaire! Judy is sarcastic and goofy! She is an avid admirer of all things supernatural, paranormal, and mystical. (She finally came around to zombies, but NO clowns...she loathes clowns). She loves to read and write, watches way too much TV, and enjoys many genres of film. She's enjoys music of the Trance/Electronica variety (and let's be honest most music from the 80s). She also has a wicked sweet tooth. Cupcakes beware.
Latest posts by Judy Manning (Posts)