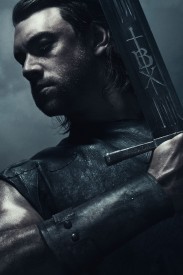 With each new clip released by FX for its upcoming new drama series, The Bastard Executioner, my excitement builds. Kurt Sutter, creator of both Sons of Anarchy and The Bastard Executioner, appears to be upping the blood and mayhem, and I can't wait to check it out.
The Bastard Executioner is a medieval epic about Wilkin Brattle (Lee Jones), a warrior knight who promises to leave behind his past life of violence. Brattle is forced to return to his violent ways, however, when he becomes the executioner.
The Bastard Executioner premieres Tuesday, September 15 at 10:00 pm ET/PT. For a look at what's to come, check out the clip below.

Looking FX on social media? Please see below for the official accounts of FX Networks.
Facebook – https://www.facebook.com/FX
Twitter – www.twitter.com/fxnetworks
Tumblr – www.fxnetworks.tumblr.com
Instagram – www.instagram.com/fxnetworks
Pinterest – www.pinterest.com/fxnetworks
Photo and clip 2015 FX Networks, LLC. All Rights Reserved.
© 2015, Greg Staffa. All rights reserved.
Greg Staffa
I provide testosterone to the site. You won't be reading about how nice a actress looks in a dress or how much of a hunk Matt Bomer is in my reviews. I describe colors using words like brown, not taupe. My twitter name is @staffaroadtrip because I love road trips and have done two different 48-state road trips since 2008. My favorite show is White Collar.
Latest posts by Greg Staffa (Posts)