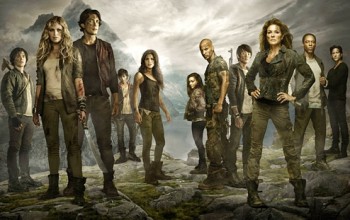 Guilty pleasure? You bet your sweet grounder ass it is! I was glued to my seat each week waiting to see what would happen on The 100. And with the cryptic ending with Thelonious (Isaiah Washington) finding the so-called "City of Light" and Clarke's (Eliza Taylor) departure from the camp, it's anyone's guess on how things will turn out in season three. But according to EP Jason Rothenberg, there will be "multiple big bads" in the upcoming season.
The 100 | Comic-Con Sizzle
Can you survive a post-apocalyptic Earth? See if The 100 have what it takes in this #CWSDCC #WBSDCC trailer.
The 100| Comic-Con 2015 Q&A: Part 1
What can you expect from Season 3? The 100 team answers your #CWSDCC #WBDCC questions!
The 100 | Comic-Con 2015 Q&A: Part 2
What is the future of Linctavia*? The cast of The 100 answers your burning season 3 questions at #CWSDCC #WBSDCC! (*Lincoln and Octavia for those who missed seasons one and two).
Connect with The 100 Online:
WEBSITE: http://www.cwtv.com/shows/the-100
FACEBOOK: https://www.facebook.com/cwthe100
TWITTER: https://twitter.com/cwthe100
INSTAGRAM: https://instagram.com/cw_the100
TUMBLR: http://cwthe100.tumblr.com
PINTEREST: https://www.pinterest.com/thecw/the-100
Source: ©2015 The CW Network, LLC. All Rights Reserved.
© 2015 – 2017, Judy Manning. All rights reserved.
Judy Manning
Dream chaser extraordinaire! Judy is sarcastic and goofy! She is an avid admirer of all things supernatural, paranormal, and mystical. (She finally came around to zombies, but NO clowns...she loathes clowns). She loves to read and write, watches way too much TV, and enjoys many genres of film. She's enjoy prefers music of the Trance/electronica variety (and most music from the 80s let's be honest). She also has a wicked sweet tooth. Cupcakes beware.
Latest posts by Judy Manning (Posts)