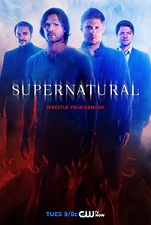 SUPERNATURAL — "Girls, Girls, Girls"  (airing Tuesday, November 25, 2014 at 9/8c)
ROWENA REAPPEARS — Sam (Jared Padaleck) and Dean (Jensen Ackles) stumble upon a demon who is running from Crowley (Mark A. Sheppard).  Before they have a chance to shut him down, Rowena (guest star Ruth Connell) steps in and takes things into her own hands.  Realizing Rowena is trying to recruit and train followers in the art of witchcraft, Sam and Dean come up with a plan to catch her before she can do much damage.  Meanwhile, Hannah (guest star Erica Carroll) runs into a blast from her vessel's past, which complicates things for her and Castiel (Misha Collins).  Robert Singer directed this episode written by Robert Berens.
[important] Mon 11/24/14 – ADDED NEW CLIP [/important]
"Girls, Girls, Girls" Clip 1: Some things aren't too good to be true.
"Girls, Girls, Girls" Trailer: It won't be a good day to be a witch. A brothel of witches?

Check out the photos from "Girls, Girls, Girls"
Tune in to Supernatural, Tuesdays at 9/8c only on The CW.
For more on the show, go to http://www.cwtv.com/shows/supernatural
Follow Supernatural on Twitter @CW_SPN
Like Supernatural on Facebook.
Source: ©2014 The CW Network, LLC. All Rights Reserved.
© 2014, Judy Manning. All rights reserved.
Judy Manning
Dream chaser extraordinaire! Judy is sarcastic and goofy! She is an avid admirer of all things supernatural, paranormal, and mystical. (She finally came around to zombies, but NO clowns...she loathes clowns). She loves to read and write, watches way too much TV, and enjoys many genres of film. She's enjoys music of the Trance/Electronica variety (and let's be honest most music from the 80s). She also has a wicked sweet tooth. Cupcakes beware.
Latest posts by Judy Manning (Posts)