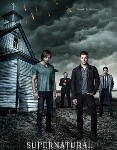 Check out this clip for the next all new episode of Supernatural. And if you watched the 200th episode, take a gander at the behind the scenes scoop on filming the musically inspired "Fan Fiction."
Catch all new episodes of Supernatural, Tuesdays at 9/8c, only on The CW. For more on the show, visit the official site.
[important] Added new clip Tues 11/18/14[/important]
All new clip "Ask Jeeves Clip1" – Bobby had a lot of secrets.
The boys will have to use all of the clues to solve this mystery.

200th Episode BTS

LIKE Supernatural on Facebook.
Follow Supernatural on Twitter.
Videos courtesy of The CW © 2014 The CW Television Network.
© 2014, Elle. All rights reserved.
Writer, mother, realist, cloud lover, daydreamer, dessert enthusiast, sweet tea addict, perfectionist, and lover of life and Christ, but not in that order. http://www.fanfiction.net/~vikingloverelle
Latest posts by Elle (Posts)