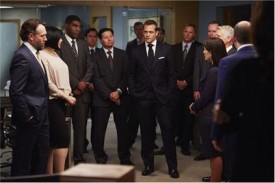 Summary: With their backs against the wall, Jessica (Gina Torres) and Louis (Rick Hoffman) make a last-ditch effort to rally the support of the partners, as Daniel Hardman (guest star, David Costabile) and Jack Soloff (guest star, John Pyper-Ferguson) attempt a takeover of the firm. Meanwhile, Mike (Patrick J. Adams) and Harvey (Gabriel Macht) must each face down the demons of their past in order to make potentially life-altering decisions.

Tune in to Suits Wednesdays at 9/8c, only on USA Network.
For more on the show, go to http://www.usanetwork.com/series/suits/.
Follow Suits on Twitter, as well as some of the cast: <Mike> Patrick J Adams, <Harvey> Gabriel Macht, <Rachel> Meghan Markle, and <Louis> Rick Hoffman.
Like Suits on Facebook.
Photos © 2015 USA Network, LLC, a division of NBC Universal, Inc. All Rights Reserved.
YOU MIGHT ALSO LIKE...
TV News: USA Network's Hit Drama SUITS Returns For Season
TV Promos: Suits Midseason Premiere January 25
Suits "She's Gone" Recap. Good Will Mike.
Suits Season 6 Finale — "Character and Fitness" Recap. The
Suits "Quid Pro Quo" Recap. Setting an Example.
Suits "The Painting" Recap. Female Mike Ross.
Suits "Teeth Nose Teeth" Recap. The Donna.
Suits "Admission Of Guilt" Recap. Show of Force.
© 2015, Greg Staffa. All rights reserved.
Greg Staffa
I provide testosterone to the site. You won't be reading about how nice a actress looks in a dress or how much of a hunk Matt Bomer is in my reviews. I describe colors using words like brown, not taupe. My twitter name is @staffaroadtrip because I love road trips and have done two different 48-state road trips since 2008. My favorite show is White Collar.
Latest posts by Greg Staffa (Posts)