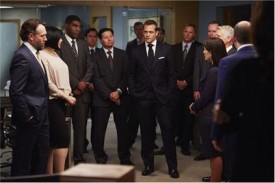 Summary: With their backs against the wall, Jessica (Gina Torres) and Louis (Rick Hoffman) make a last-ditch effort to rally the support of the partners, as Daniel Hardman (guest star, David Costabile) and Jack Soloff (guest star, John Pyper-Ferguson) attempt a takeover of the firm. Meanwhile, Mike (Patrick J. Adams) and Harvey (Gabriel Macht) must each face down the demons of their past in order to make potentially life-altering decisions.

Tune in to Suits Wednesdays at 9/8c, only on USA Network.
For more on the show, go to http://www.usanetwork.com/series/suits/.
Follow Suits on Twitter, as well as some of the cast: <Mike> Patrick J Adams, <Harvey> Gabriel Macht, <Rachel> Meghan Markle, and <Louis> Rick Hoffman.
Like Suits on Facebook.
Photos © 2015 USA Network, LLC, a division of NBC Universal, Inc. All Rights Reserved.
© 2015, Greg Staffa. All rights reserved.
Greg Staffa
I provide testosterone to the site. You won't be reading about how nice a actress looks in a dress or how much of a hunk Matt Bomer is in my reviews. I describe colors using words like brown, not taupe. My twitter name is @staffaroadtrip because I love road trips and have done two different 48-state road trips since 2008. My favorite show is White Collar.
Latest posts by Greg Staffa (Posts)