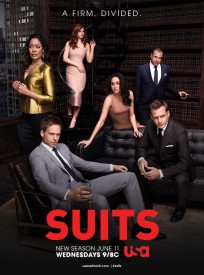 USA Network has released the teaser for next week's episode of Suits, followed by a PSA from Meghan Markle as she joins UN Women in the fight for a world where women lead!
In "Mea Culpa," Jessica (Gina Torres) does damage control in the wake of Harvey (Gabriel Macht) punching Louis (Rick Hoffman), just as Jack Soloff (guest star John Pyper-Ferguson) and Daniel Hardman (guest star David Costabile) are looking for weaknesses to exploit. Meanwhile, Donna (Sarah Rafferty) counsels both men on how to rectify their issues. And Mike (Patrick J. Adams) must find a way to turn down his recently announced promotion without raising suspicion – while he and Rachel (Meghan Markle) combat an opposing attorney who holds the key to uncovering his secret.
Love Suits? Want to know what everyone is talking about?  Find out by watching host Jonathan Fernandez and the fans recap and dish about all the backstabbing, the breakdowns and the break-ups, and the brilliant moves in each episode of SUITS. Check out Suits social recaps Here.
Tune in to Suits Wednesdays at 9/8c, only on USA Network.
For more on the show, go to http://www.usanetwork.com/series/suits/.
Follow Suits on Twitter, as well as some of the cast: <Mike> Patrick J Adams, <Harvey> Gabriel Macht, <Rachel> Meghan Markle, and <Louis> Rick Hoffman.
Like Suits on Facebook.
Photos: © 2015 USA Network, LLC, a division of NBC Universal, Inc. All Rights Reserved.
Greg Staffa
I provide testosterone to the site. You won't be reading about how nice a actress looks in a dress or how much of a hunk Matt Bomer is in my reviews. I describe colors using words like brown, not taupe. My twitter name is @staffaroadtrip because I love road trips and have done two different 48-state road trips since 2008. My favorite show is White Collar.
Latest posts by Greg Staffa (Posts)