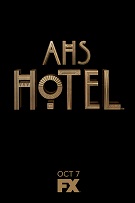 AMERICAN HORROR STORY: HOTEL premieres Wednesday, October 7 at 10 PM PT on FX.
HALLWAYS: You never know who you will meet in the halls of the Hotel. Check-in Wednesday, October 7, 2015 on FX.
American Horror Story Social Media:
Facebook – https://www.facebook.com/AmericanHorrorStory
Twitter – www.twitter.com/AHSFX
Tumblr – http://americanhorrorstoryonfx.tumblr.com/
Instagram – www.instagram.com/americanhorrorstory_fx
Pinterest www.pinterest.com/ahsfx
G+ – https://plus.google.com/+AmericanHorrorStory/videos
Source: ©2015 FX Networks. All Rights Reserved.
© 2015, YEC-Admin. All rights reserved.
YEC-Admin
The Administrative Team of YEC. We love TV, Movies, Books, & More...
Latest posts by YEC-Admin (Posts)