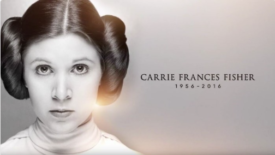 Lucas film released a video tribute to the late Princess Leia actress Carrie Fisher shown during the 40 Years of Star Wars panel at the Star Wars Celebration in Orlando.

Video © 2017 Lucasfilm Ltd. All rights reserved.
Save
Save
Save
YOU MIGHT ALSO LIKE...
Trailer: Lucasfilm Releases First Trailer for Star Wars: The Last
VIDEO: Amazon Original Series CATASTROPHE Season 3 Premieres April 28
TV News: HBO Debuts BRIGHT LIGHTS, New Documentary Starring Carrie
New Rogue One: A Star Wars Story Trailer Released During
News: Amazon Greenlights Two Additional Seasons of Original Series CATASTROPHE
Trailer: Paramount Pictures Releases New Trailer for Transformers: The Last
Trailer: Marvel Releases Teaser Trailer for Thor: Ragnarok
Trailer: Annapurna Pictures Releases Trailer for Detroit
© 2017, Greg Staffa. All rights reserved.
Greg Staffa
I provide testosterone to the site. You won't be reading about how nice a actress looks in a dress or how much of a hunk Matt Bomer is in my reviews. I describe colors using words like brown, not taupe. My twitter name is @staffaroadtrip because I love road trips and have done two different 48-state road trips since 2008. My favorite show is White Collar.
Latest posts by Greg Staffa (Posts)