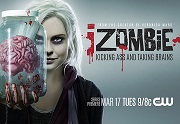 iZombie airs on Tuesdays at 9/8c on The CW.
**MON 5/04/15 – ADDED NEW CLIPS**
I am totally vibing the new relationship between Liv (Rose McIver) and Lowell (Bradley James). As much as I hate seeing Major (Robert Buckley) hurt, in more ways than one, I WANT Liv and Lowell to work out. Zombies in love! And I have a feeling that Blaine (David Anders) may try to use Liv's little brother Evan (Nick Purcha) as leverage if Evan gets the job at the Meat Cute butcher shop.
"Dead Air" Trailer: Liv thinks she knows all after eating the brains of a relationship "expert."

**ADDED NEW CLIPS**
"Dead Air Clip 1" Liv finds a kindred spirit when Ravi sees success with his rat experimentation.

Inside "Dead Air" Everyone has relationships on the brain in the next new iZombie, Tuesday, 5/05/15 at 9/8c.
Executive Producers Rob Thomas and Diane Ruggiero-Wright preview here.
For more on the show, visit the official site http://cwtv.com/shows/izombie/.
LIKE iZombie on Facebook.
Follow iZombie on Twitter.
Video courtesy of The CW © 2015 The CW Television Network.
© 2015, Judy Manning. All rights reserved.
Judy Manning
Dream chaser extraordinaire! Judy is sarcastic and goofy! She is an avid admirer of all things supernatural, paranormal, and mystical. (She finally came around to zombies, but NO clowns...she loathes clowns). She loves to read and write, watches way too much TV, and enjoys many genres of film. She's enjoy prefers music of the Trance/electronica variety (and most music from the 80s let's be honest). She also has a wicked sweet tooth. Cupcakes beware.
Latest posts by Judy Manning (Posts)