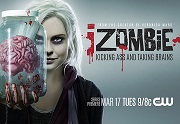 Interviews: The CW's iZombie Wonder Con 2015
Interviews with cast members Rose McIver (Liv Moore), Malcolm Goodwin (Det. Clive Babineaux), Rahul Kohli (Dr. Ravi Chakrabarti), Robert Buckley (Major Lilywhite), David Anders (Blaine DeBeers), and executive producers Rob Thomas and Diane Ruggiero-Wright.
Date: Saturday, April 4, 2015
There have been many television series based on books and comics, and whether you've read them or not, the shows sometimes veer a bit from the source material. Having no prior knowledge of the iZombie comics, I began watching the show based on the content I saw in the promo clips. I, of course, was immediately interested because the show cast one of my all-time favorite character actors, David Anders, as the charming and slightly villainous Blaine DeBeers. Blaine has "zombie swagger," as Anders puts it. I do love a good villain and Anders always seems to rise to the challenge with such poise and conviction. Thankfully, he isn't cold and cruel as some of the characters he's played over the years. I still lovingly refer to him as 'Sark,' the somewhat duplicitous character Julian Sark he played on ABC's Alias back in the early 2000s. And in case you didn't know, sorry to burst your bubble, but Anders is an all-American guy, born in Grants Pass, OR. He does put on one helluva good British accent though, doesn't he? I love the way Anders describes iZombie, as a "zom com, rom dram."
In the iZombie press room at Wonder Con 2015, I was able to interview not only Anders, but some of the other main cast members as well—including Rose McIver (Liv Moore), Malcolm Goodwin (Det. Clive Babineaux), Rahul Kohli (Dr. Ravi Chakrabarti), and Robert Buckley (Major Lilywhite). In addition, two of the executive producers, Rob Thomas (not the lead singer of the band Matchbox 20) and Diane Ruggiero-Wright, provided some very insightful information about the show. While my video of Rob Thomas was accidentally wiped, I do have the very fun and animated Ruggiero-Wright, whose enthusiasm for the show shines through in humorous color.
The cast is simply lovely and I so enjoyed speaking with all of them (especially Anders *grin*). Please note – the video for Robert Buckley is tragically abbreviated due to technical issues.
Without further ado – the video interviews.
Tune in to iZombie, Tuesdays at 9/8c, only on The CW.
For more on the show go to http://cwtv.com/shows/izombie
Twitter @CWiZombie
Facebook https://www.facebook.com/cwizombie
Instagram https://instagram.com/thecwizombie/
Tumblr http://izombiecw.tumblr.com/
Video ©2015 Your Entertainment Corner. All Rights Reserved.
iZombie key art courtesy of The CW © 2015 The CW Network, LLC. All rights reserved.
© 2015 – 2017, Judy Manning. All rights reserved.
Judy Manning
Dream chaser extraordinaire! Judy is sarcastic and goofy! She is an avid admirer of all things supernatural, paranormal, and mystical. (She finally came around to zombies, but NO clowns...she loathes clowns). She loves to read and write, watches way too much TV, and enjoys many genres of film. She's enjoy prefers music of the Trance/electronica variety (and most music from the 80s let's be honest). She also has a wicked sweet tooth. Cupcakes beware.
Latest posts by Judy Manning (Posts)