CHRISLEY KNOWS BEST
Mid-Season Finale airs Tuesday, July 21st at 9PM/8c on USA Network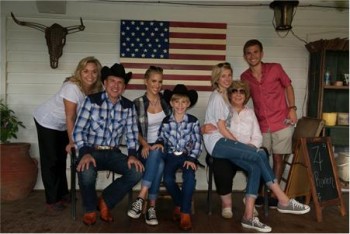 "Midlife Chrisley" – 9pm/8c *Season 3 Finale: Part 1
With Todd's birthday fast approaching, he begins to obsess about his age and reject getting older, but with the help of Mama Faye and her friends, he begins to accept the future, all the while the kids plan a surprise "This is Your Life" birthday party for him.
"Dude Ranch" – 9:30pm/8:30c *Season 3 Finale: Part 2
Grayson decides he wants to be a real city slicker for his 9th birthday, and persuades his entire family to stay overnight at a working dude ranch, where they will test how country the Chrisleys really are.
Source: ©2015 USA Network, a division of NBC Universal. All Rights Reserved.
© 2015, Judy Manning. All rights reserved.
Judy Manning
Dream chaser extraordinaire! Judy is sarcastic and goofy! She is an avid admirer of all things supernatural, paranormal, and mystical. (She finally came around to zombies, but NO clowns...she loathes clowns). She loves to read and write, watches way too much TV, and enjoys many genres of film. She's enjoys music of the Trance/Electronica variety (and let's be honest most music from the 80s). She also has a wicked sweet tooth. Cupcakes beware.
Latest posts by Judy Manning (Posts)