It's 2015 and what better way to start the New Year than with STARZ's acclaimed series Black Sails. The gritty pirate drama returns for Season 2 and judging by the latest clips released by Starz, Black Sails promises to deliver more twists, turns, and dubious characters than you might expect.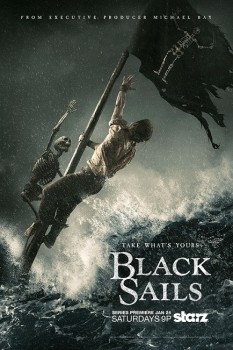 DRAMA on THE HIGH SEAS. SET SAIL WITH THE SECOND SEASON OF  EMMY®-WINNING Original series "BLACK SAILS"
TO PREMIERE ON STARZ Saturday, JANUARY 24 at 9PM ET/PT
STARZ will premiere the second season of Emmy®-winning Original series, Black Sails on Saturday, January 24 at 9PM ET/PT. The ten-episode second season of the authentic high sails drama series follows the most feared pirate of the day, Captain Flint (Toby Stephens), and his men, and takes place 20 years prior to Robert Louis Stevenson's classic "Treasure Island." Black Sails season one set a STARZ viewership record for a debuting STARZ Original series during its opening weekend in January 2014, established an average of 5.3 million viewers per episode*, and is distributed in about 130 countries and territories worldwide.
Season 2 begins where we left off—The Walrus crew is stranded, with an army of Spanish soldiers standing between them and the precious Urca gold. And with their crimes against their brethren no longer a secret, Flint and Silver must join forces in a desperate bid for survival. Meanwhile, Eleanor Guthrie struggles to maintain her grip on Nassau, as a new breed of pirate arrives in the form of Ned Low, a man for whom violence isn't just a tool … it's a past time. As blood is spilled, and tensions mount, Charles Vane must decide which he values more; Eleanor's life, or the respect of his men. And unbeknownst to all of them, a prize of immeasurable value has already been smuggled onto the island … one whose discovery will alter the very landscape of their world, and force everyone in Nassau to toward the ultimate judgment: are they men, or are they monsters?

Black Sails Starring Toby Stephens (Die Another Day), Hannah New (Maleficient, El Tiempo Entre Costuras)
Luke Arnold (Never Tear Us Apart: The Untold Story of Michael Hutchence), Jessica Parker Kennedy (The Secret Circle), Zach McGowan (Shameless), And Tadhg Murphy (Vikings)
 Created and Executive Produced by Jonathan E. Steinberg (Jericho, Human Target) and Robert Levine (Touch), and Executive Produced by Michael Bay (Transformers, Armageddon, Pearl Harbor) and Platinum Dunes partners Brad Fuller and Andrew Form (Teenage Mutant Ninja Turtles, The Purge).
 ————————————————————————-
The Start of Something New? Not all the faces in Season 2 of Black Sails are familiar. Meet Ned Low, the newest pirate to up the ante this season when the search for more power and fortune comes at a higher cost.
Good Captain: We meet the deadly new pirate on the island, Ned Low.

Never Say Never. Captain Flint discovers he does have friends in low places—John Silver. Love him or hate him, folks, he isn't the most honorable character. Then again, this is Black Sails and honor has a different meaning for the pirates of New Providence.
Truly Amazing: We see the developing relationship between Captain Flint and the cunning John Silver.

Two Sides of the Same Coin. It's great to see some things haven't changed in Black Sails in the aftermath of season one's finale. Eleanor and Vane have one of the most dysfunctional and compelling relationships ever. I, for one, wouldn't want it any other way.
When You're Told: Eleanor gives Captain Vane a piece of her mind.

Best Laid Plans…Again. Flint tries his best at redemption with the Walrus crew, who don't seem particularly interested in him…well, except for Silver.
The Risk: Captain Flint proposes a plan.

Tune in to the season two premiere of Black Sails, Saturday, January 24, 2015 at 9PM E/P, only on Starz.

For more on the show, go to http://www.starz.com/originals/blacksails.
Facebook: https://www.facebook.com/blacksails.starz.
Twitter: @BlkSails_Starz.
Instagram: @blacksails_starz.
Join the conversation with: #BlackSails.
Source: ©2014-15 Starz Entertainment, LLC. All Rights Reserved.
*

Sources "Black Sails" debuted to 2.6 million Live+Same Day viewers during the weekend of January 25-26, 2014. Linear results based on Nielsen NPower overnight data. Multiplatform results based on Starz internal estimates of linear and time shifted results from Nielsen (NPower), Rentrak (On Demand Essentials) and internal broadband data. Subject to further qualifications available upon request.


 
Connie Allen
I'm a writer, cinephile, avid reader, and pop culture enthusiast. I love historical dramas, and fantasy/sci-fi series. Currently living in SoCal.
Latest posts by Connie Allen (Posts)