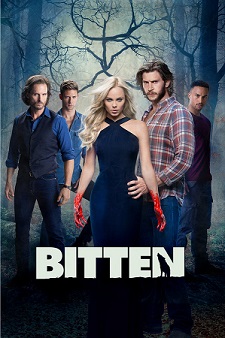 Bitten Airs Fridays at 9/8c on Syfy
Next on #Bitten – Elena is forced to guide Dr. Bauer through her first transformation. Meanwhile, the Pack and Coven try to find the location of Aleister's hideout. Catch a glimpse of what is to come in the sneak peek below.
"Rabbit Hole" Sneak Peek: No one said turning into a werewolf would be easy! Watch a new episode of Bitten on Friday, May 8, 2015 at 9/8c.
Tune into Bitten, Fridays at 9/8c on Syfy.
For more on the show, go to http://www.syfy.com/bitten
Follow Bitten on Twitter @bittentv, as well as the cast: Laura Vandervoort (@Vandiekins22), Greyston Holt (@greystonh), Greg Bryk (@gregbryk), Paul Greene (@paulgreenemedia), Steve Lund (@leven_stund), Michael Xavier (@michael_profx), Tommie Amber Pirie (@TommieAmber), and Kiara Glasco (@kiaraglasco).
Like Bitten on Facebook.
Source ©2015 Syfy, a division of NBC Universal, Inc. All Rights Reserved.
© 2015, Judy Manning. All rights reserved.
Judy Manning
Dream chaser extraordinaire! Judy is sarcastic and goofy! She is an avid admirer of all things supernatural, paranormal, and mystical. (She finally came around to zombies, but NO clowns...she loathes clowns). She loves to read and write, watches way too much TV, and enjoys many genres of film. She's enjoys music of the Trance/Electronica variety (and let's be honest most music from the 80s). She also has a wicked sweet tooth. Cupcakes beware.
Latest posts by Judy Manning (Posts)