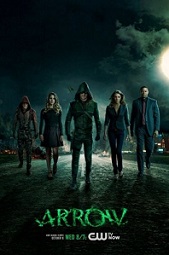 Arrow
All new episode Wednesday, Feb. 4, 2015 at 8/7c on The CW.
Arrow – Uprising Trailer: A homecoming like no other. Don't miss the battle for The Glades Wednesday, Feb. 4, 2015 on an all new Arrow.
***Tues 2/03/15 – ADDED NEW CLIP Arrow – Stunts: Felicity vs. Five Sit-Ups***
Arrow – Stunts: Felicity Vs. Five Sit-Ups: Every hero needs to train. Here's an exclusive inside look at Felicity kicking her training up a notch.
Arrow – Uprising Clip: Rebecca Merlyn's killer will pay at the hands of Malcolm.
For more on these shows, go to http://www.cwtv.com
Follow Arrow on Twitter @CW_Arrow
LIKE Arrow on Facebook.
Source: ©2015 The CW Network, LLC. All Rights Reserved.
© 2015, Judy Manning. All rights reserved.
Judy Manning
Dream chaser extraordinaire! Judy is sarcastic and goofy! She is an avid admirer of all things supernatural, paranormal, and mystical. (She finally came around to zombies, but NO clowns...she loathes clowns). She loves to read and write, watches way too much TV, and enjoys many genres of film. She's enjoys music of the Trance/Electronica variety (and let's be honest most music from the 80s). She also has a wicked sweet tooth. Cupcakes beware.
Latest posts by Judy Manning (Posts)