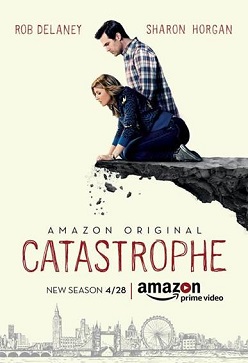 Amazon Original Series
CATASTROPHE
Season 3
Rob and Sharon have faced down unexpected pregnancy and abrupt parenthood, but can they survive an unexplained receipt for the morning after pill? With their relationship on shaky ground, they attempt to weather unemployment, mortgages, children who bite, Brexit, jealous coworkers, drunken mistakes, friends in rehab, disastrous job interviews, insane family, and, of course, keeping the children alive.
Written by and starring Rob Delaney and Sharon Horgan, Catastrophe season three includes additional cast members Carrie Fisher, Ashley Jensen, and Mark Bonar, Daniel Lapaine, Douglas Hodge, Jonathan Forbes, Domhnall Gleeson, Gary Lilburn, Tobias Menzies and Frances Tomelty.
There are six episodes in Catastrophe season three.

Facebook: CatastropheTV 
Twitter: @Catastrophe_TV
Instagram: @Catastrophe_TV
Use hashtag #Catastrophe
Source: ©2017 Amazon/Amazon Prime Video. All Rights Reserved.
Save
YOU MIGHT ALSO LIKE...
News: Amazon Greenlights Two Additional Seasons of Original Series CATASTROPHE
Video: Catastrophe Season 2 Trailer
Amazon's Original Comedy Series Catastrophe Will Launch Exclusively for Amazon
News: Amazon Announces Lineup for its 2015 Fall Pilot Season
News: Amazon Greenlights 10-Episode Season of Tom Clancy's JACK RYAN
News: Amazon Prime Video Greenlights Season 4 of Emmy-Nominated Series
© 2017, Judy Manning. All rights reserved.
Judy Manning
Dream chaser extraordinaire! Judy is sarcastic, goofy, and self-proclaimed minty fresh! She loves vampires and is an admirer of all things supernatural, paranormal, and mystical. (She's slowly coming around to zombies, but no clowns...she loathes clowns). She loves to read and write. She watches way too much TV and many movies. She's enjoys music of the Trance/electronica variety. She also has a wicked sweet tooth.
Latest posts by Judy Manning (Posts)