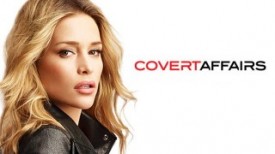 USA Network's spy drama Covert Affairs staring Piper Perabo as Annie Walker returns November 6, 2014 for the second half of season five. Check out the promo below.

Follow Covert Affairs on Twitter.
LIKE Covert Affairs on Facebook.
Follow the show on Pinterest.
You can also follow these cast members on Twitter:
Piper Perabo (Annie) @PiperPerabo, Chris Gorham (Auggie) @ChrisGorham, Kari Matchett (Joan Campbell) @TheKariMatchett, Peter Gallagher (Arthur Campbell) @PeterGallagher, and Hill Harper (Calder Michaels) @hillharper.
Stay current with Covert Affairs on its official website, where you can catch up on the past season, watch full episodes, watch exclusive webisodes, and get the lastest social buzz.
Clip © 2014 USA Network, a division of NBC Universal, Inc.
Greg Staffa
I provide testosterone to the site. You won't be reading about how nice a actress looks in a dress or how much of a hunk Matt Bomer is in my reviews. I describe colors using words like brown, not taupe. My twitter name is @staffaroadtrip because I love road trips and have done two different 48-state road trips since 2008. My favorite show is White Collar.
Latest posts by Greg Staffa (Posts)