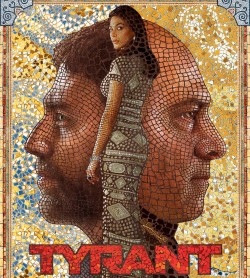 What an emotional reunion between Barry (Adam Rayner) and his wife Molly (Jennifer Finnigan) in this past Tuesday's episode of Tyrant, as seen in the clip below. With everything that's happened this season, I can't wait to see what happens in "Pax Abuddin," the season two finale airing Tuesday, September 1, 2016 at 9:00 pm ET/PT, only on FX. Here's a sneak peak.
It's a new dawn in Abuddin, and Jamal's (Ashraf Barhom) fate – along with that of the Al-Fayeed family – remains uncertain. Recognizing the situation is ripe for turmoil, Barry encourages Rami (Keon Alexander) to stay and oversee the transition. Leila (Moran Atias) cooperates with the Arab League, hoping to secure a position for herself and Ahmed (Cameron Gharaee) in the new world order.
The best part of risking everything is the moment of relief after victory. Watch this selected scene from Season 2, episode 11 of Tyrant.
Follow Tyrant here:
http://www.fxnetworks.com/shows/Tyrant
https://www.facebook.com/TyrantFX
https://twitter.com/TyrantFX
https://instagram.com/tyrantfx
Find FX here:
http://www.fxnetworks.com/
https://www.facebook.com/FX
https://twitter.com/fxnetworks
http://instagram.com/FXNetworks
https://plus.google.com/+fx/posts
http://fxnetworks.tumblr.com/
Photo and clips © 2015 Showtime Network, a wholly owned subsidiary of CBS Corporation. All Rights Reserved.
© 2015, Linda. All rights reserved.
Linda
Love TV, movies, and books--mostly mysteries, with a good love story thrown in every now and then. I have four adopted dogs who I adore. I love trying new recipes, and enjoy eating what I make. English language perfectionist. Reading in bed, Italian food, warm weather, the beach, all types of games = favs!
Latest posts by Linda (Posts)