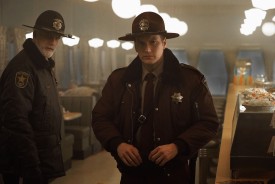 FX continues to set the tone for Fargo's second season with an additional set of teasers.
Little is known about the upcoming season of Fargo, which is set in 1979, but fans can rest assured it will feature some violent and disturbing mayhem along with a dash of humor.
Fargo stars Kirsten Dunst, Patrick Wilson, Ted Danson, Jean Smart, Jesse Plemons, Nick Offerman, Bokeem Woodbine, Kieren Culkin, and Brad Garrett.
To check out the first set of teasers, click here.
Season two premieres Monday, October 12 at 10 PM ET/PT, only on FX.
Visit the show's website at http://www.fxnetworks.com/fargo.
Like Fargo on Facebook.
Follow Fargo on Twitter.
Clips ©2015 FX Networks, LLC. All Rights Reserved.
Greg Staffa
I provide testosterone to the site. You won't be reading about how nice a actress looks in a dress or how much of a hunk Matt Bomer is in my reviews. I describe colors using words like brown, not taupe. My twitter name is @staffaroadtrip because I love road trips and have done two different 48-state road trips since 2008. My favorite show is White Collar.
Latest posts by Greg Staffa (Posts)