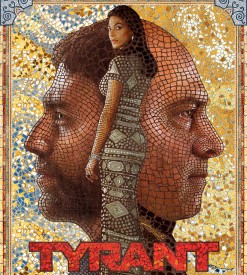 Tyrant airs Tuesdays at 10PM E/P only on FX
"The Other Brother": Barry decides to stay in Abuddin and make a stand against the Caliphate. Jamal pushes the Chinese diplomat for military support. Sammy discovers that Abdul has been kidnapped by the Caliphate.
Was Barry Right All Along? — Episode 5 "A Viper in the Palace"
What does this news mean for the future of Abbudin? Relive this tense moment from the last episode of Tyrant.
Tyrant Social Media:
Facebook: https://www.facebook.com/TyrantFX
Twitter: https://twitter.com/TyrantFX
Source: ©2015 FX Networks. All Rights Reserved.
YOU MIGHT ALSO LIKE...
TV Promo: FX's Hit Series Tyrant Returns This Summer
TV Promo of Tyrant's 10-Episode Third Season Premiering July 6
Casting News and TV Promo: Annet Mahendru is Joining the
TV News: Premiere Dates Announced for FX's Tyrant and Sex&Drugs&Rock&Roll
Official Trailer forHomeland's Season Six, Premiering January 15, 2017
Video: Inside The People v. O.J. Simpson: American Crime Story
TV News: FX Networks Sets Season 3 Premiere Dates For
TV Promo: Next On – "Travel Agents"
© 2015, YEC-Admin. All rights reserved.
YEC-Admin
The Administrative Team of YEC. We love TV, Movies, Books, & More...
Latest posts by YEC-Admin (Posts)