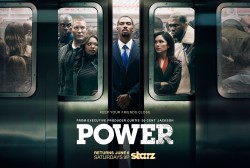 Things are quickly wrapping up for season two of Power following Tommy's (Joseph Sikora) arrest last week. With him in prison, seriously doubting his faith in Ghost (Omari Hardwick), Angela (Lela Loren) and the rest of the AUSAs push him to flip on Lobos (Enrique Murciano) or spend the rest of his life in jail. In the meantime, Ghost makes maneuvers to do right by Tasha (Naturi Naughton), Tommy, Shawn (Sinqua Walls), and Angela – but the consequences of his actions are steep.
Here's a brief look at what's in store for you in "Time's Up." All new episodes of Power air Saturday nights at 9:00 pm ET/PT, only on Starz.
If you missed last week's episode, "Three Moves Ahead," you can catch up by reading my review.
Like Power on Facebook.
Follow Power on Twitter using hashtag #PowerTV. You can also follow these cast members: Kanan @50Cent; Jamie "Ghost" St. James @OmariHardwick and @IAmTheRealGhost; Tasha @naturinaughton; Shawn @sinquawalls; Angela @LelaLoren; Tommy @JosephSikora4; Holly @lucytwalters; Greg Knox @andybeanactor; Dre @rotimi; Miguel Sandoval @davidfumero; Isabel @YainisYnoa; Pink Sneakers @TheLopezLopez; Julio @JR8Ramirez; Ruiz @LuisARamosActor, Felipe Lobos @enriquetwiter; Kantos @adamthuss, Cooper Saxe @shane_m_johnson, and Lakeisha @lala. Follow creator and executive producer Courtney Kemp Agboh @CKAgbohOfficial.
Photo and clip © 2015 Starz Network. All Rights Reserved.
© 2015, Linda. All rights reserved.
Linda
Love TV, movies, and books--mostly mysteries, with a good love story thrown in every now and then. I have four adopted dogs who I adore. I love trying new recipes, and enjoy eating what I make. English language perfectionist. Reading in bed, Italian food, warm weather, the beach, all types of games = favs!
Latest posts by Linda (Posts)
h&m online