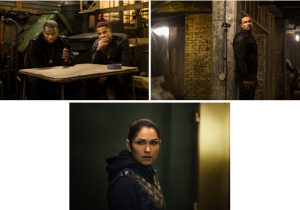 With everything that happened in "Time's Up," it's hard to tell whether anyone will make it out of this season alive or if Angela (Lela Loren) will catch onto Ghost's (Omari Hardwick) game. Tune into the Power season finale, "Ghost is Dead," this Saturday, August 15 at 9:00 pm ET/PT. You won't want to miss the culmination of this intense, record-breaking second season.
Bodies from Ghost's organization are dropping left and right, with each death inching closer to Ghost and Tommy (Joseph Sikora). Still, the threat of Angela submitting Jamie for investigation as Ghost, as well as Kanan (Curtis "50 Cent" Jackson) wanting to put him down, prove to be just as lethal.
Like Power on Facebook.
Follow Power on Twitter using hashtag #PowerTV. You can also follow these cast members: Kanan @50Cent; Jamie "Ghost" St. James @OmariHardwick and @IAmTheRealGhost; Tasha @naturinaughton; Shawn @sinquawalls; Angela @LelaLoren; Tommy @JosephSikora4; Holly @lucytwalters; Greg Knox @andybeanactor; Dre @rotimi; Miguel Sandoval @davidfumero; Isabel @YainisYnoa; Pink Sneakers @TheLopezLopez; Julio @JR8Ramirez; Ruiz @LuisARamosActor, Felipe Lobos @enriquetwiter; Kantos @adamthuss, Cooper Saxe @shane_m_johnson, and Lakeisha @lala. Follow creator and executive producer Courtney Kemp Agboh @CKAgbohOfficia
Photos and clip © 2015 Starz Network. All Rights Reserved.
Linda
Love TV, movies, and books--mostly mysteries, with a good love story thrown in every now and then. I have four adopted dogs who I adore. I love trying new recipes, and enjoy eating what I make. English language perfectionist. Reading in bed, Italian food, warm weather, the beach, all types of games = favs!
Latest posts by Linda (Posts)