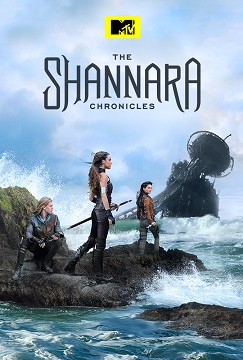 MTV confirmed the move of The Shannara Chronicles to Spike TV.
"After much consideration, it was decided that the second season of "The Shannara Chronicles" will air on Spike.  We're honored to have worked with our extraordinary production partner, Sonar Entertainment, along with fantasy visionaries and Executive Producers, Al Gough, Miles Millar, Jon Favreau, Jonathan Liebesman and Dan Farah along with Executive Producer and best-selling author of the book series, Terry Brooks. We're pleased that fans of the beloved franchise will be able to follow the characters and epic story they love on its new network." – MTV Spokesperson
Below is a press release from SPIKE TV on the news:
"THE SHANNARA CHRONICLES"

MOVES TO SPIKE TV

The Second Season of the Epic Fantasy Series To Premiere on Spike This Fall

An Encore Presentation of Season One Debuts June 29

New York, NY – May 11, 2017 – The second season of popular fantasy series "The Shannara Chronicles" will air on Spike TV this fall. The first season of the original scripted drama, based on the best-selling fantasy book series by Terry Brooks, debuted on MTV in 2016.

Filmed on location in New Zealand, the new season will consist of 10 one-hour episodes. Details of the premiere date and time for season two will be announced in the coming weeks.

Spike will introduce its viewers to the critically-acclaimed series this summer as it will encore season one beginning onThursday, June 29 at 11:00pm ET/PT, directly following the Spike original series, "The Mist."

"The Shannara Chronicles" stars Austin Butler (Wil), Ivana Baquero (Eretria), Manu Bennett (Allanon), Aaron Jakubenko (Ander) and Marcus Vanco (Bandon) along with new cast members Vanessa Morgan (Lyria), Malese Jow (Mareth), Gentry White (Garet), Caroline Chikezie (Queen Tamlin), and Desmond Chiam (General Riga).

Season two takes place one year after the events of last season. The Four Lands are in chaos. The re-emergence of magic has the populace terrified, and an organization called The Crimson is hunting down magic users, using fear and intimidation to sow discord among the races. Wil, scarred by the loss of Amberle and his separation from Eretria, has turned his back on his magical destiny to become a healer. But when a mysterious woman named Mareth saves Wil from a Crimson attack, he is forced to rejoin the fight.

"The Shannara Chronicles" is created by Al Gough and Miles Millar based on theShannara series of books written by Terry Brooks.  The series is executive produced by Gough & Millar, Brooks, Jon Favreau, Jonathan Liebesman, and Dan Farah.  The series is produced and distributed worldwide by Sonar Entertainment in association with Millar/Gough Ink and Farah Films.
Source: ©2017 Spike TV, a division of Viacom Media. All Rights Reserved.
YOU MIGHT ALSO LIKE...
TV News: MTV's CATFISH: The TV Show Returns For Sixth
Young Sheldon, The Big Bang Theory Spin-off, Scheduled for CBS's
PHOTO: MTV's Cast of TEEN WOLF 100th Episode
Movie Trailer: Mirror Images Ltd. Presents BETA TEST Starring Manu
Movie Review: Beta Test – So Bad, It's Good.
TV NEWS: AMC Renews Into the Badlands for a 16-Episode
Syfy Announces "12 MONKEYS" Season 3 Premiere and Renews For
TV News: MTV's VIDEO MUSIC AWARDS Returns to the West
© 2017, Judy Manning. All rights reserved.
Judy Manning
Dream chaser extraordinaire! Judy is sarcastic, goofy, and self-proclaimed minty fresh! She loves vampires and is an admirer of all things supernatural, paranormal, and mystical. (She's slowly coming around to zombies, but no clowns...she loathes clowns). She loves to read and write. She watches way too much TV and many movies. She's enjoys music of the Trance/electronica variety. She also has a wicked sweet tooth.
Latest posts by Judy Manning (Posts)