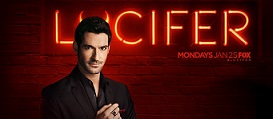 In a press release today —
"LUCIFER" RENEWED FOR THIRD SEASON ON FOX

Series Returns for its Spring Premiere Monday, May 1, on FOX

FOX has ordered a third season of LUCIFER, the devilishly fun series about the original fallen angel who moves to Los Angeles and teams up with the LAPD to take down criminals. Twenty-two episodes have been ordered.

"LUCIFER is one of those rare shows that starts strong out of the gate, and just keeps getting better and better," said David Madden, President, Entertainment, Fox Broadcasting Company. "Tom, Lauren and the entire cast have really made these characters three-dimensional, and the production team – Jerry, Len, Jonathan, Joe and Ildy – is one of the best in the business.  We'd also like to thank our partners Warner Bros. for their commitment to this show and we look forward to seeing where this wildly innovative series takes us in Season Three."

Delivering an average Multi-Platform audience of eight million viewers, LUCIFER stars Tom Ellis, Lauren German, Rachael Harris, DB Woodside, Lesley-Ann Brandt, Kevin Alejandro, Aimee Garcia, Tricia Helfer and Scarlett Estevez. The series is based upon the characters created by Neil Gaiman, Sam Kieth and Mike Dringenberg for Vertigo, from DC Entertainment.

In the all-new spring premiere of LUCIFER, "Candy Morningstar," airing Monday, May 1 (9:00-10:00 PM ET/PT) on FOX, Lucifer (Tom Ellis) has gone off the grid and cut off all contact from his family and the police department, following Chloe's (Lauren German) near-death. But the murder of an up-and-coming guitarist causes him to resurface – with a new mystery woman. Meanwhile, Lucifer's mom (Tricia Helfer) realizes she may have found a way to finally get them back to Heaven.
Photo and content ©2017 Fox
YOU MIGHT ALSO LIKE...
TV News: Fox's Lucifer Gets Full Season Order
VIDEO: Interviews at San Diego Comic-Con – LUCIFER
TV News: FOX Orders Second Seasons For LUCIFER and ROSEWOOD
Comic-Con TV News: Lucifer Highlight Reel and Season 2 First
Fox Announces Spring 2017 Premiere Dates
Penny Dreadful – "This World Is Our Hell" Review. Embrace
TV News: Fox Scares Up Halloween Themed Programming Throughout October
TV News/Trailers: FOX Announces New Primetime Series For 2016-17 Season
© 2017, Greg Staffa. All rights reserved.
Greg Staffa
I provide testosterone to the site. You won't be reading about how nice a actress looks in a dress or how much of a hunk Matt Bomer is in my reviews. I describe colors using words like brown, not taupe. My twitter name is @staffaroadtrip because I love road trips and have done two different 48-state road trips since 2008. My favorite show is White Collar.
Latest posts by Greg Staffa (Posts)