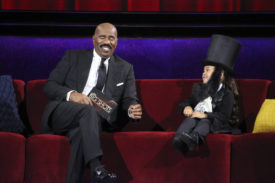 I thoroughly enjoyed the first season of NBC's Little Big Shots and am thrilled it's coming back for season two on March 5.
Steve Harvey is hilarious as the host; I love the bond he forms with each kid. What makes Little Big Shots so enjoyable is while many of the youngsters are genuinely talented, others are simply fascinating to listen to. Harvey's not only funny, he brings out the best in each child. A perfect example is Lucy and her passion for Abraham Lincoln, which is featured in the clip below.
Having screened the premiere, what I love about Lucy's segment is a magical moment that isn't in the clip.
To find out what happens, check out Little Big Shots Sunday, March 5 at 8/7c on NBC. 


Source: ©2017 NBC Universal. All Rights Reserved.
YOU MIGHT ALSO LIKE...
TV News: NBC Renews LITTLE BIG SHOTS For Second Season
TV News: NBC Sets Midseason Lineup
TV Trailer: For NBC's New Comedy Series Powerless
TV Trailer: For NBC's Comedy Series Powerless
TV News: NBC Orders Two More Seasons of This Is
Martin Short and Derek Hough Join Cast in NBC'S Hairspray
TV News: Jennifer Lopez to Executive Produce and Star in
TV News: NBC Celebrates 90 Years of the Macy's Thanksgiving
© 2017, Greg Staffa. All rights reserved.
Greg Staffa
I provide testosterone to the site. You won't be reading about how nice a actress looks in a dress or how much of a hunk Matt Bomer is in my reviews. I describe colors using words like brown, not taupe. My twitter name is @staffaroadtrip because I love road trips and have done two different 48-state road trips since 2008. My favorite show is White Collar.
Latest posts by Greg Staffa (Posts)