Ready for an amazing Hair Battle between two extremely talented fantasy hair stylists? Hair Battle Spectacular's J9, (the sassy redhead) and Bossa Nova (the smooth Brazilian) go head to head (literally!) in a Mardi Gras themed challenge! And the best part? Bad Girls Club hair models Priscilla and Angelic! Hair Battle judge extraordinaire Derek J. and host Eva Marcille will be making an appearance.
Tune in to watch it all go down on http://www.OxygenLive.com/ while you watch Bad Girls Club and the Hair Battle Spectacular premiere on Oxygen for all the fabulousity. The #HeadGames begin Monday August 15 at 9pm ET sharp. You can find Bad Girls Club on Facebook at http://www.facebook.com/thebadgirlsclub.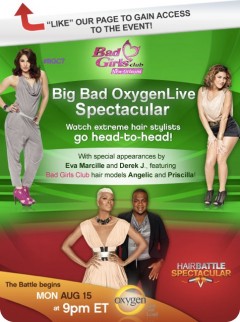 And don't forget to check out a new mash-up video from Bad Girls Club's controversial voodoo vixen Judi!
Photo and clip © 2011 Oxygen. All rights reserved.
Linda
Love TV, movies, and books--mostly mysteries, with a good love story thrown in every now and then. I have four adopted dogs who I adore. I love trying new recipes, and enjoy eating what I make. English language perfectionist. Reading in bed, Italian food, warm weather, the beach, all types of games = favs!
Latest posts by Linda (Posts)