We love watching zombie themed shows, even playing zombie themed games, but what if zombies were a reality? I don't know about you, but the thought of zombified cockroaches gives me the heebie-jeebies. And don't get me started on human zombies.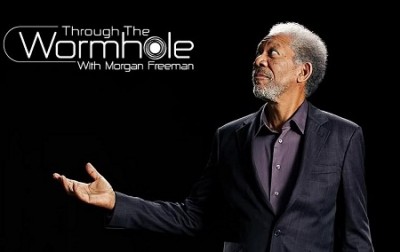 THROUGH THE WORMHOLE WITH MORGAN FREEMAN
NEW EPISODE THIS WEDNESDAY, JUNE 25 @ 10PM  ET/PT ON SCIENCE CHANNEL
Science Channel's Emmy®- nominated hit series THROUGH THE WORMHOLE WITH MORGAN FREEMAN is back for a mind-bending fifth season.  The series that has broken ratings records for the network delivers eight all-new episodes that will provoke and inspire viewers to think beyond the boundaries of what they know. Covering such controversial topics as could poverty be genetic, how to crush a superpower and exploring the possibility of a zombie apocalypse, this season guarantees to break down the walls of conventional television to investigate the puzzles that captivate us all.
Is a Zombie Apocalypse Possible?
World Premieres on Wednesday, June 25 at 10PM ET/PT
It is a nightmare that has stalked us for centuries: hordes of human beings transformed into mindless, cannibalistic monsters. Could this civilization-ending nightmare become reality? Scientists have discovered pathogens that turn insects into the walking dead. New strains of viruses are attacking humans every day. Mathematicians have calculated the likelihood of surviving a zombie virus outbreak: they're not hopeful. Now neuroscientists are discovering how easy it is for us to lose conscious control of our bodies. Are we at risk of becoming puppets? And if we are already in the middle of a zombie apocalypse, would we know it? 
Source: ©2014 Science Channel. All Rights Reserved.
YOU MIGHT ALSO LIKE...
TV News: Morgan Freeman Returns to Science For An All-New
TV News: Morgan Freeman Returns to Science Channel For All
TV News: All New Season of Science Channel's THROUGH THE
An Age Old Controversial Question. Advance Review: Through the Wormhole—"When
Movie News: Magnolia Takes US Rights to Rob Reiner's THE
News: "The Walking Dead" Season 4 Premieres This Sunday!
© 2014, Judy Manning. All rights reserved.
Judy Manning
Dream chaser extraordinaire! Judy is sarcastic, goofy, and self-proclaimed minty fresh! She loves vampires and is an admirer of all things supernatural, paranormal, and mystical. (She's slowly coming around to zombies, but no clowns...she loathes clowns). She loves to read and write. She watches way too much TV and many movies. She's enjoys music of the Trance/electronica variety. She also has a wicked sweet tooth.
Latest posts by Judy Manning (Posts)