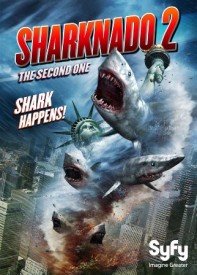 The "second one" hasn't even aired yet and already we have news on Sharknado 3?
ANOTHER CITY WILL FACE TOTAL DESTRUCTION WHEN SHARKNADO 3 PREMIERES ON SYFY IN SUMMER 2015

NEW ORIGINAL MOVIE TO BE PRODUCED BY THE ASYLUM

 

NEW YORK – April 30, 2014 – Los Angeles and New York were not enough! Syfy and The Asylum today announced that yet another city will be devoured by flying sharks when the new Original Movie Sharknado 3 premieres on Syfy in Summer 2015.

But which city will it be…?

 

This latest installment in the global pop culture sensation will once again be produced by The Asylum.

Sharknado 2: The Second One, starring Ian Ziering, Tara Reid, Vivica A. Fox, Mark McGrath, Kari Wuhrer and Judah Friedlander, and directed by Anthony C. Ferrante, will premiere on Syfy Wednesday, July 30 at 9PM (ET/PT).

 In Sharknado 2, a freak weather system turns its deadly fury on New York City, unleashing a Sharknado on the population and its most cherished, iconic sites – and only Fin (Ian Ziering) and April (Tara Reid) can save the Big Apple.

And what will happen in Sharknado 3…?
Source: ©2014 Syfy, a division of NBC Universal. All Rights Reserved.
YOU MIGHT ALSO LIKE...
TV News: SHARKNADO 5 Is Happening…And Going "Fin-ternational"
Movie Review: Sharknado: The 4th Awakens – Unbearable.
TV News: Syfy Announces Spring-Summer 2017 Schedule
Interview: Showrunner Nick Antosca Talks about Creepypastas and Inspiration for
Channel Zero: Candle Cove – "You Have to Go Inside"
Channel Zero: Candle Cove – "I'll Hold Your Hand" Review.
The Goldbergs – "Smother's Day" Recap. Coupons of Love.
TV News: CBS Announces Series Premiere of Superior Donuts
© 2014 – 2015, Judy Manning. All rights reserved.
Judy Manning
Dream chaser extraordinaire! Judy is sarcastic, goofy, and self-proclaimed minty fresh! She loves vampires and is an admirer of all things supernatural, paranormal, and mystical. (She's slowly coming around to zombies, but no clowns...she loathes clowns). She loves to read and write. She watches way too much TV and many movies. She's enjoys music of the Trance/electronica variety. She also has a wicked sweet tooth.
Latest posts by Judy Manning (Posts)