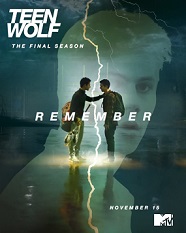 "Teen Wolf" on set today (Thursday, March 9, 2017) shooting the 100th (and final!) episode. The "Teen Wolf" series officially wraps tomorrow (Friday, March 10, 2017).
The 100th Milestone cake was designed by Helena Wirth Cakes of Los Angeles (Follow on Instagram: @officialhelenawirthcakes).
Cast is listed left to right.
Front row: Dylan Sprayberry, Shelley Hennig, Tyler Posey, Holland Roden, JR Bourne (floating head)
Second row: Khylin Rhambo, Melissa  Ponzio
Third row: Ryan Kelley, Susan Walters, Linden Ashby
Fourth row:  Gideon Emery, Ian Bohen, Sibongile Mlambo, Froy Gutierrez, Andrew Matarrazo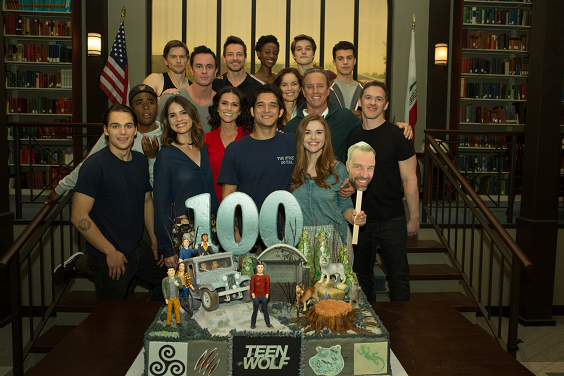 Photo credit: Scott Everett White for MTV
Source: ©2017 MTV. All Rights Reserved.
Save
Save
YOU MIGHT ALSO LIKE...
TV News: MTV's CATFISH: The TV Show Returns For Sixth
TV News: First Wave of TEEN CHOICE 2016 Nominees Announced
Black Sails – "XXXI" Review. A Time for Dark Deeds.
TV News: Starz Sets Course for Treasure Island In the
Black Sails Season 4 Premiere – "XXIX" Review. Vengeance Never
Black Sails – "XXXII" Recap. All Roads Lead Back to
Black Sails – "XXX" Review. New Foes, Old Friends, and
TV Trailer: Outlander Season 3 Trailer
© 2017, Judy Manning. All rights reserved.
Judy Manning
Dream chaser extraordinaire! Judy is sarcastic, goofy, and self-proclaimed minty fresh! She loves vampires and is an admirer of all things supernatural, paranormal, and mystical. (She's slowly coming around to zombies, but no clowns...she loathes clowns). She loves to read and write. She watches way too much TV and many movies. She's enjoys music of the Trance/electronica variety. She also has a wicked sweet tooth.
Latest posts by Judy Manning (Posts)