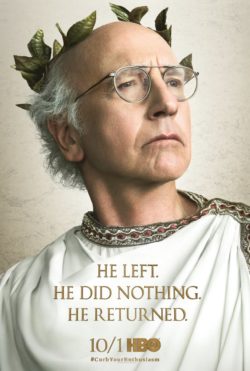 HBO's Emmy®-winning comedy series Curb Your Enthusiasm starring Larry David, returns for its 10-episode ninth season Sunday, October 1 at 10:00 p.m. ET/PT. The show also brings back cast favorites Jeff Garlin, Susie Essman, and JB Smoove, among many others. Larry David created and executive produces the series with Jeff Garlin and Jeff Schaffer. After a six-year hiatus, David announced last year his desire to do another season of the show. Asked why he decided to come back, David said, "In the immortal words of Julius Caesar, 'I left, I did nothing, I returned.'"
Here's a teaser of what's to come.
Follow Curb Your Enthusiasm http://www.hbo.com/curb-your-enthusiasm on its website.
Like Curb on Facebook at https://www.facebook.com/curbyourenthusiasm/ 
Follow Curb on Twitter:  https://twitter.com/HBOCurb
Content, photo, and video © 2017 HBO. All Rights Reserved.
Linda
Love TV, movies, and books--mostly mysteries, with a good love story thrown in every now and then. I have four adopted dogs who I adore. I love trying new recipes, and enjoy eating what I make. English language perfectionist. Reading in bed, Italian food, warm weather, the beach, all types of games = favs!
Latest posts by Linda (Posts)