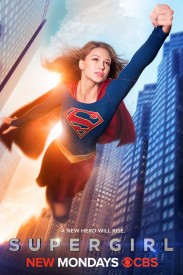 With the pilot for CBS' new series Supergirl filmed months ago, production for the next episode began yesterday and to celebrate, the network has released a behind-the-scenes teaser.
Based on the DC Comics superhero, Supergirl follows the adventures of Superman's cousin Kara Zor-El (Melissa Benoist) as she becomes the hero she was destined to be.
While the special effects in the trailer look impressive for a television series, it's the enthusiasm that Benoist brings to the role that has me wanting to see more.
Supergirl premieres on Monday, October 26 at 8:30 ET/PT before moving to its regular time slot on Monday, November 2 at 8 ET/PT.

For more on the show, go to http://www.cbs.com/shows/supergirl/
Follow Supergirl on Twitter, as well as some of the cast: <Supergirl> Melissa Benoist, <Sylvia Danvers> Helen Slater, <Alex Danvers> Chyler Leigh, <Alura Zor-El> Laura Benanti, and <Cat Grant> Calista Flockhart.
Like Supergirl on Facebook.
Photos And Video: © 2015 CBS Broadcasting Inc. All Rights Reserved.
Greg Staffa
I provide testosterone to the site. You won't be reading about how nice a actress looks in a dress or how much of a hunk Matt Bomer is in my reviews. I describe colors using words like brown, not taupe. My twitter name is @staffaroadtrip because I love road trips and have done two different 48-state road trips since 2008. My favorite show is White Collar.
Latest posts by Greg Staffa (Posts)